---
techduck.ca

"A Technical Fowl"


No stuff just now..
---
by using this site you agree to accept the Terms Of Service and Disclaimer. CONTACT: info at techduck.ca
Please request any page you may have expected on this site.. such as this odd, unknown plant..
---
* August 13 01:07:40 PDT 2020
So we moved and are using the local time zone here..
Stuff has gone and we have moved - thanks to Paul and his plankroad.ca for continued help with techduck mail during our down time and now until the last gear has arrived and been set up here in our new digs.
will get back to you like a bit later - stuff to deal with in the physical domain.
---
---
* May 29 10:56:20 BST 2020
Changing the default raspberrypi user.
Here are the notes promised for changing the default admin user name on the rpi4. Also tested on the rpi3b as well.
---
* April 2020 Other serious uses of the raspberry pi computer.
---
* April 12 15:15:32 BST 2020
Latest techduck gear: 9 Watts


So a whole new set of gear and is running this site!

Left to right - for a grand total of less that 9 watts power required.


2 raspberry pi 4B computers and router
a two screen desktop
techduck.ca: mail, web and authoritative name server
router (black box under my thumb)
The little clear plastic box on the right is serving this page you are reading!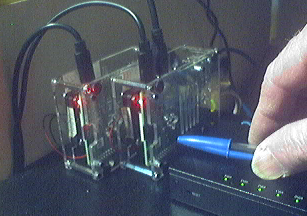 ---
Previous techduck gear: 960 Watts
For a grand total of close to a Kilowatt.. a Kilowatt?

So 450 Watt Power Supply for the black Dell server
110 Watt for the Compaq machine from 1997
400 Watts required for an AMD desktop
---
* August 2019
www.techduck.ca is once again doing its job
Did the gear switch so some parts of this site will not be up unless requested.
If you are looking for something you used to see here, _please_ give me a call or email your query. Of course if you know where you are going just type it in your browser.
later
---
by using this site you agree to accept the Terms Of Service and Disclaimer. CONTACT: info at techduck.ca
---